The First Walk Through: 8 Things to Look For
You saw the listing, you liked the pictures. Now it's time for a walk through to get a sense of the home – and whether or not you like it – in under an hour. Here are 8 things to look for so you can focus on the live-ability of each home you "take for a spin" at a walk through or open house.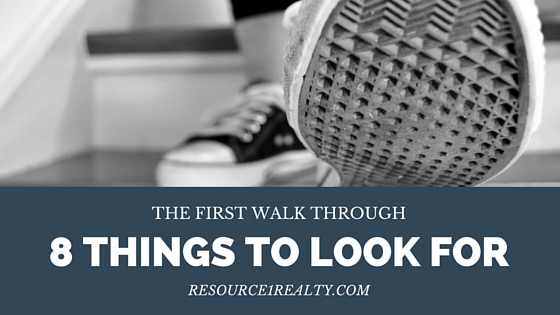 Community. How close is the home to the places you want to be near? Does the area have the amenities you are looking for?
Exterior. Check the exterior of the house, including the yard, siding and roof for any visible problems or areas of concern.
Layout. If you're not planning on hiring a contractor after you purchase or doing any intensive DIY, you'll want the layout of the home to work with your lifestyle. Does the flow of the rooms make sense to you? Can you see yourself moving comfortably throughout the home in your day-to-day activities?
Must Haves. You probably checked the listing for your must haves, but be sure to keep them in mind again on the walk through. Are they all there? Is anything different from the listing?
Deal Breakers. The same goes for your deal breakers. Was the listing accurate, or did it list a 1.5 car garage as a 2 car garage? Is that a deal breaker for you?
Wear & Tear. What might need to be fixed up or replaced soon? Does the wear and tear you see indicate daily living and good upkeep, or are there deeper problems?
What are the little "extras" that jump out as you are walking through? Maybe there is something you really like that you didn't even know to look for.
Mother Nature. What are the pros and cons of the house's natural surroundings? Look for things like the direction of the house – where windows are facing and where the sun will shine in – or not shine in – and consider if that makes sense for you.
Before The Walk Through
Before you can begin judging homes, it is best to know what you are looking for. Learn more about shopping for a house in our article "7 Tips to Find & Buy Your Perfect Home," including a lifestyle worksheet to identify your must-haves and deal breakers.