The 1 thing you need to do to sell your house
Countless articles online talk about selling your home. How to stage it, how to declutter and even – gasp – how to take out the personality of the home!  It can be difficult to part with a home that served you well and become a member of your family. So before you start organizing and "un-personalizing," the one thing you need to do to sell your house is let go. Step back, capture the home and let go of the "house."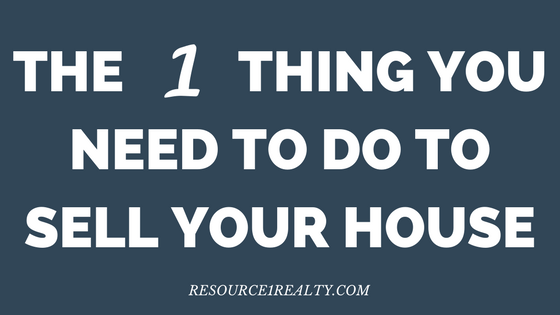 Step One – Recognize that a "house" is a giant container
Or box, for you and your family's physical belongings. Think of it as selling the "house" and taking the home with you. This way, you can create positive conversations and activities around this thought to help reduce anxiety. Many people, especially children, become emotional about selling their home. I think of it this way: Your home as a structure is called a "house." How you have cared for it, lived in it, and grown in it makes it a home. On the flip side, the "house" protected you, allowed you to personalize it and enabled you to create wonderful memories. The "house" is proud to be your home and you love your "house."
Step Two – Capture Memories
Capture as many of the memories that you would like to have with you in the future. We are fortunate to live when there's technology to capture, transport and store all the images we want for almost free. Very soon with technological advancements in Virtual Reality you will be able to experience and relive the memories you save!
Step Three – Communicate with the "house"
And this is where it gets uncomfortable for some – you need to communicate with the "house." Yes, I do mean talk to it! Expressing your gratitude for how the "house" has protected you and how it has helped you create memories. For everything the "house" helped you with along the way while you made it home, is key for letting go.
Letting the "house" go is not only healthy for you and your family but it's good for the "house" too. Once you capture the memories and release the "house," you'll be able to move on – you, your family and the house.  For you the benefits of capturing your home memories are obvious. For the "house," the benefit will be derived by the new owners.
If you think about it in these terms, there has and should always be a constant transformation of the "house" as it comes and goes from owner to owner. I believe Letting Go and freeing your energy from the "house" will help in attracting a new buyer and allow the "house" the opportunity to help its new owners create new memories and call the "house" their home.
We'd love to work with you on selling your home – from the emotions of letting go to the logistics of listing and showing. Give us a call to get started:
585-223-3034.