Sold in 5 Days: What it takes to sell a house quickly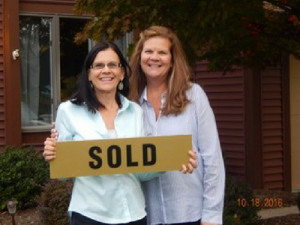 I recently had the good fortune to work with a homeowner whose house sold in just 5 days and over list price. As with most things in life, selling a home is a lot of hard work, and a little bit of luck. Many factors are at play when you're finding just the right buyer. For instance, selling when the market favors sellers can be a big help, and certain home investments are also helpful. These 4 factors play the biggest role in selling a house quickly:
Work: There is always some amount of work to be done, whether that is painting neutral colors, small updates, decluttering, or perhaps bringing in staging furniture.
In the case of the home that sold in 5 days over list price, the homeowner had put a lot of work into the home before putting it on the market. The homeowner replaced all the carpeting, painted and also invested in larger updates, which brings us to the next point…
Investment: If you have lived in your home for over 10 years, you may need to make some bigger changes. Investing in a small remodel or appliance upgrades might be on the menu.
This homeowner did a few larger updates, including replacing the driveway and replacing all the mechanicals (water tank, etc.). Every home is different, and the decision is yours. We are always happy to make suggestions for our clients who are preparing to list.
Comps: "Comps" stands for "comparables," meaning what other homes have sold for in your area. This plays a role in the value of your home and is a guiding point for deciding on a listing price.
Just because other home in the area are around a certain price doesn't necessarily mean that your home will be at the same level, though. Several factors about your property, the lot and the home itself, can put your home at a higher or lower value in the eyes of a buyer.
Market: The state of the market in any area is constantly changing, and can be different from street to street. Certain times of year are also more advantageous for homeowners looking to list a home. Timing exactly when you list can be important in selling quickly.
Selling in 5 days is not something that can be guaranteed – it is a perfect storm of hard work and good circumstances. This home had a motivated buyer who really wanted the house. Luck brought that buyer to us at just the right time, making all the work, investment and pricing come together for a great sale.
Are you ready to sell your home? The best way to maximize all your efforts is to consult with a Realtor before making any big changes or investments. Use our experience to your advantage. I'd be happy to talk with you about the best way to prepare your home for listing, you can reach me at 585-223-3034.